Hybrid Cloud Hosting

HOSTING Products and Services
Click Here to Jump to Pricing!
Overview:
Hybrid Cloud Providers: Flexible, Scalable, Adaptable
Organizations that require multiple IT platforms (due to legacy applications, special IT attributes, regulatory mandates and the like) are oftentimes well-suited for the flexibility and ease of the HOSTING Hybrid Cloud™. Unlike some hybrid cloud providers who use a "one-size-fits-all" approach, our hybrid cloud server architectures can be "mixed and matched" to create a hybrid cloud solution fully suited to your organization's unique requirements. HOSTING solution architects possess deep cloud hosting and business optimization expertise to build fully customized hybrid cloud architectures and managed service designs that scale when you need them to.
Hybrid Cloud Solutions, High Performance
The HOSTING Hybrid Cloud provides the best of all possible cloud deployments. Seamlessly connect colocated and/or dedicated components to a virtual private cloud or public cloud via a private dedicated network. Replicate to a secondary HOSTING data center for secure availability of all business-critical data and applications. Leverage our cloud computing expertise to design a scalable, hybrid cloud solution that's purpose-built for your business. The result is increased computing power and improved data management with high security and 100% availability. Get the benefits of dedicated servers, hybrid cloud servers, and world-class colocation data centers with a hybrid cloud solution from HOSTING.
Features & Benefits:
Features
Ability for virtual and physical resources to live in the same virtual local area network (VLAN)
Incremental virtual hardware refreshes
Ability to retrieve real-time performance information via the HOSTING Customer Portal™
Benefits
As the leading hybrid cloud provider, we offer a broad array of solutions to give you the ability to pick the right platform for the job at hand
Easy and seamless integration with colocated, dedicated and virtual resources
24 x 7 x 365 expert support
Specifications: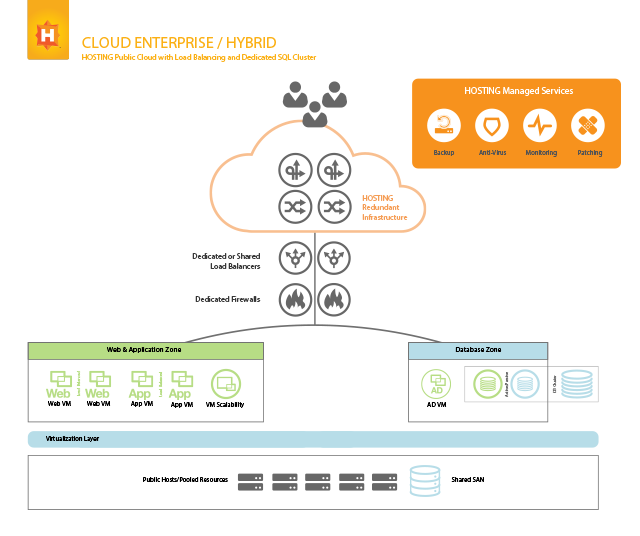 HOSTING Products and Services