Private Cloud Hosting

HOSTING Products
Cloud Hosting
Cloud Hosting
#Cloud-Hosting
Get a Quote!
Click here to Jump to Pricing!
Overview:
Private Cloud Hosting: Maximum Flexibility, Fully Dedicated
What is the HOSTING Private Cloud? It is a managed cloud solution built on a single-tenant (dedicated) environment powered by VMware.
Each virtual machine (VM) has its own operating system and set of applications customized to meet an organization's needs. Private cloud hosting (or a virtual private cloud) allows organizations to leverage lower price-points associated with virtualization without placing their infrastructure in a shared environment.
Customers are provided with administrative access to their VM or VMs, allowing them to install and manage custom applications. Additionally, customers have access to the HOSTING Customer Portal™ and our round-the-clock, dedicated support team to modify VM resources including vCPU, RAM and storage. Pool resources across the company, move workloads seamlessly between private cloud servers, lower operational costs, and avoid upfront capital expenses with the HOSTING Private Cloud.
Private cloud hosting from HOSTING is available in two deployment options: fully managed by us, or self-managed by you:
HOSTING Managed Private Cloud Hosting
HOSTING manages the infrastructure with licensing, monitoring and management of the virtualized operating system. Our certified cloud architects create custom private cloud solutions using our primary storage services and/or separately purchased customer storage. Select from our catalog of private cloud servers, extensive software, and managed services to customize your dedicated virtualized cluster. Advantages include:
Dedicated hosting environment
Enhanced security and compliance
Fault tolerance
Unprecedented scalability
On-demand resources managed via the self-service HOSTING Customer Portal
Your customized private cloud hosting solution will be hosted in one of our strategically located data centers. The platform allows physical servers to be partitioned into self-contained virtual machines, each with its own operating system and set of applications.
Features & Benefits:
Features
Ability to provision and manage through the HOSTING Customer Portal™ and API
Ability to leverage the HOSTING Public Cloud™
Available custom network services including firewalls and load balancing
Benefits
Dedicated resources
Guaranteed performance
24 x 7 x 365 expert support
Specifications: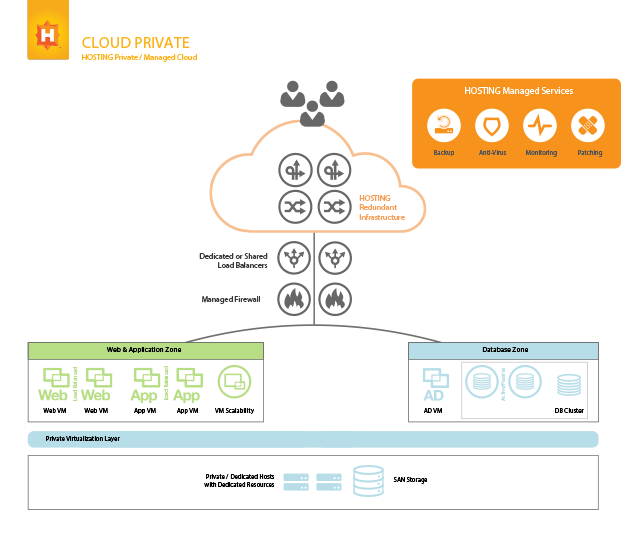 HOSTING Products
Cloud Hosting
Cloud Hosting
#Cloud-Hosting
Get a Quote!